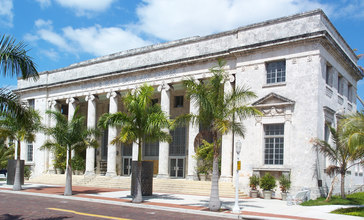 Fort Myers or Ft. Myers, is the county seat and commercial center of Lee County, Florida, United States. It has grown rapidly in recent years. As of the 2010 census, the city population was 62,298 and in 2016 was estimated at 77,146.
Fort Myers is a gateway to the Southwest Florida region and a major tourist destination within Florida. The winter estates of Thomas Edison ("Seminole Lodge") and Henry Ford ("The Mangoes") are major attractions. The city is named after Colonel Abraham Myers.
Heritage Cove is a senior community (55 and over) and caters to the senior residents that reside here. This community is a condominium complex consisting of eight buildings. Each building being a four (4) story building with approximately 32 residents per structure. There a lot of healthy residents that live here that can take care of themselves and then you have the disabled residents that receive care from caregivers that are employed through various agencies in Lee County, Fort Myers, Florida. There are several caregivers that are employed within this Community that help these individuals in their day-to-day activities. They have a clubhouse that consists of a pool, tennis courts, a jacuzzi and a work out room. They also have a large room with several tables and chairs in the clubhouse that cater to people who play Bingo, card games and have various other games that the residents enjoy getting involved in.
Services, reliable transportation, community engagement
There are many retirees in the city of Fort Myers...There is plenty to do, whether it is Seniors helping Seniors, or church-affiliated activities. There are plenty of Assisted Living Facilities, and Memory Care Centers. It is quite friendly although we do have the, Youth Groups as well. There is a mixture of all age groups!
Community engagement as well as care.I currently work as an HHA and the patients I have been with were beyond bitter.I honestly believe it was from loneliness and previous care.Most people see patients or elderly as paychecks.I'm just here because I like helping people.
Senior Living Communities
Explore Home Care Options Near You
Find a Financial Professional Near You
Taxes