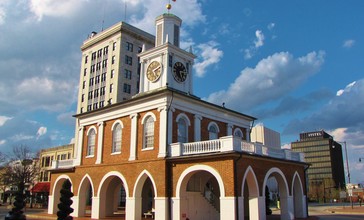 Fayetteville () is a city in Cumberland County, North Carolina, United States. It is the county seat of Cumberland County, and is best known as the home of Fort Bragg, a major U.S. Army installation northwest of the city. Fayetteville has received the All-America City Award from the National Civic League three times. As of the 2010 census it had a population of 200,564, with an estimated population of 204,408 in 2013. It is the 6th-largest city in North Carolina. Fayetteville is in the Sandhills in the western part of the Coastal Plain region, on the Cape Fear River. With an estimated population in 2013 of 210,533 people, the Fayetteville metropolitan area is the largest in southeastern North Carolina, and the fifth-largest in the state. Suburban areas of metro Fayetteville include Fort Bragg, Hope Mills, Spring Lake, Raeford, Pope Field, Rockfish, Stedman, and Eastover. Fayetteville's mayor is Mitch Colvin, who is serving his first term.
Neighbors gets along with different ethnicities
I feel that this town is age friendly because we have a military base, several nursing homes, and hospitals.
What makes this place age friendly is if someone is sick or in need of anything my age friendly Community is right there.
Education, military town, community
Fayetteville has many places in the town that provides care, support and transportation needs for the elderly along with community engagement so they are able to get out and have some fun! There is a bus available for those not able to drive and it picks them up and takes them to their appointment.
Senior Living Communities
Explore Home Care Options Near You
Find a Financial Professional Near You
Taxes