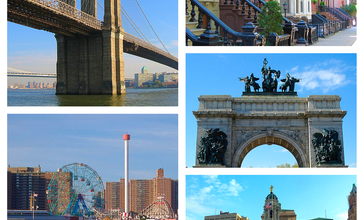 Brooklyn is the most populous borough of New York City, with a census-estimated 2,648,771 residents in 2017.
Named after Dutch village of Breukelen, it borders the borough of Queens at the southwestern end of the same Long Island, and has several bridge connections to the nearby boroughs of Staten Island and Manhattan. Since 1896, the borough has been coterminous with Kings County, the most populous county in the U.S. state of New York and the second-most densely populated county in the United States, after the county of New York (which is coextensive with the borough of Manhattan).
With a land area of 71 square miles (180 km2) and water area of 26 square miles (67 km2), Kings County is New York's fourth-smallest county by land area and third-smallest by total area, though it is the second-largest among the city's five boroughs.
Today, if New York City dissolved, Brooklyn would rank as the third-most populous city in the U.S. after Los Angeles and Chicago. Brooklyn was an independent incorporated city (and previously an authorized village and town within the provisions of the New York State Constitution) until January 1, 1898, when, after a long political campaign and public relations battle during the 1890s, according to the new Municipal Charter of "Greater New York", Brooklyn was consolidated with the other cities, boroughs, and counties to form the modern "City of New York," surrounding the Upper New York Bay with five constituent boroughs.
The borough continues, however, to maintain a distinct culture. Many Brooklyn neighborhoods are ethnic enclaves. Brooklyn's official motto, displayed on the Borough seal and flag, is Eendraght Maeckt Maght which translates from early modern Dutch as "Unity makes strength". In the first decades of the 21st century, Brooklyn has experienced a renaissance as an avant garde destination for hipsters, with concomitant gentrification, dramatic house price increases, and a decrease in housing affordability.
Since 2010, Brooklyn has evolved into a thriving hub of entrepreneurship and high technology startup firms, and of postmodern art and design.
Everyone is welcoming . No drama
I leave on Eastern Parkway in Brooklyn New York, it's very diverse community It's a mixture of everythin. It's old middle age and young, it's some what friendly and I think we all get along.
I live right across from a very diverse park , where families love to come enjoy their time, The dog lovers get meet up and the elderly get to watch it all and relax . Growing up in the area , it's very often that I see the elderly hanging out in the park , my family and neighbors included . The area also is surrounded by of transportation which makes things way more accessible to get around , From the local churches to the cafe's and open environment , I would definitely say that this area is permitted for everyone including the elderly to relax and enjoy their time
Since there are many schools and care institutions in my neighborhood, it is age-friendly. The environment is a blend of old and new, allowing knowledge to be handed down, whether it's through school, transportation, or meditation on the past. My neighborhood is a fantastic area for both young and old people to be involved and learn.
The surrounding area has a large population of all different generations and age groups therefore the neighborhood accommodates each age group accordingly.
Senior Living Communities
Explore Home Care Options Near You
Find a Financial Professional Near You
Taxes