Crowd-sourcing Set To Accelerate Age Friendly Movement
"We need engagement from the bottom in addition to action from the top," the World Health Organization's Dr. John Beard tells Age Friendly Advisor.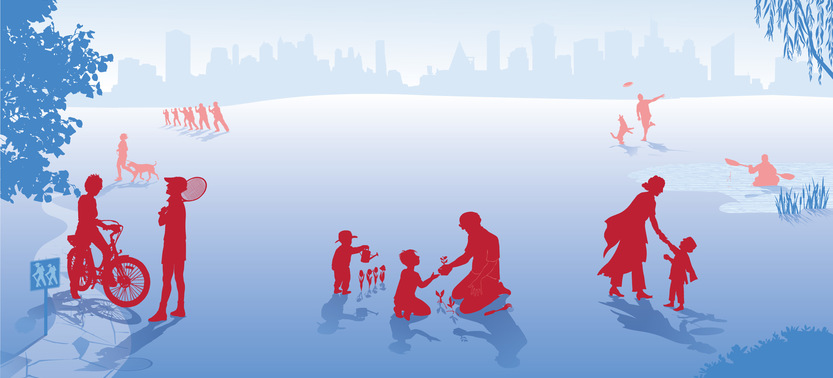 LIVING
"We need engagement from the bottom in addition to action from the top" the World Health Organization's Dr. John Beard tells Age Friendly Advisor
Communities globally are mobilizing to make life better for their older citizens.  But are they moving fast enough?  With the right solutions?  And who should be setting priorities?
In the realm of aging services, crowdsourcing is now at work to both accelerate innovation and affect social change.  It curates solutions and enables ideas to be heard.
Curating Innovations In Aging
General Electric, among other private sector firms, has seized upon the power of crowdsourcing to address business challenges.  It launched an open crowdsourcing platform connected to a network of "microfactories" capable of rapid design and prototyping. The platform is part of GeniusLink — a team that works with experts inside and outside of GE to find more efficient ways to do business.  That team went to work in 2018 to organize a contest on behalf of Massachusetts Governor Charlie Baker's Council to Address Aging.  The objective: tap the crowd—in this case, people of any age or stripe—to come up with ways to address social isolation and loneliness, particularly among older adults.
Affecting Social Change
Technology and the Internet are proving key to mobilizing people for modern day social movements.  In 2013, the Arab Spring opened eyes to the Internet's capability to organize people to call for change. In 2017, Standing Rock again mobilized Internet platforms to draw together tens of thousands of voices which would otherwise have remained silent, isolated, and unheard.  When it comes to addressing ageism, the age friendly movement is mobilizing older generations online where they are demanding a level playing field and greater respect.
Age Friendly Advisor recently caught up with age friendly cities catalyst Dr. John Beard, who launched the Global Network of Age Friendly Cities and Communities nearly a decade ago.  Until 2018, Geneva, Switzerland-based Beard was Director of Aging and Life Course at the UN's World Health Organization.  Beard says he has seen an evolution in the views of political leaders over these years.  "They used to say 'ah, yes, we should probably do something about this [demographic shift],'" says Beard, "whereas now these same leaders are actually talking about concrete answers. They now realize they need to take action." 
Age Friendly Advisor is helping to accelerate the discourse by moving it online, making it even more public and connecting people to rapidly-emerging public and private innovations.  
As part of the WHO's age friendly cities designation process, city leaders are required to engage residents in a dialogue about what types of innovations are needed.  This dialogue is conducted mostly in private through listening sessions, focus groups and surveys.  The team at Age Friendly Advisor thinks the process can be enhanced through crowd sourcing. One might compare the current data collection process to the way—before Yelp, TripAdvisor or GlassDoor, a business, hotel or employer would poll its customers or employees.
"Nowadays, we have the means to share knowledge and ideas on an enormous and diverse scale. Crowdsourcing harnesses the creative and competitive spirit of people all over the world, enabling them to better address big problems like making aging easier," says Age Friendly Advisor's Tim Driver.  "There is a huge opportunity to combine the knowledge of experts with ideas from the crowd".  Age Friendly Advisor is a type of Yelp, but specific to aging and seniors. Communities can "claim" their town's page and promote ways in which they are age friendly or a good place to live. Residents can then directly comment with their feedback.
Age Friendly Advisor's sister division RetirementJobs.com coined the 'age friendly' term when it established its widely-recognized 'Certified Age Friendly Employer' vetting program in 2006.  "The employer program's purpose is to help a mature job seeker shorten his or her search by navigating around age discrimination," says Amanda Henshon, a corporate lawyer and leader of the team administering RetirementJobs.com's employer vetting program.  The vetting program is accompanied by thousands of reviews posted by employees about employers. 
Asked how the WHO's cities program, with more than 700 officially-designated communities worldwide, can accelerate, Dr. Beard says "to be effective, we need engagement from the bottom in addition to action from the top".  It's more than just policy makers and employers taking action around the aging population.  Beard tells Age Friendly Advisor he sees the business sector recognizing the needs of older individuals more than ever.   "As the population ages, this demographic has become a segment businesses simply cannot ignore.  [Business leaders] are much more engaged than they've ever been," says Beard.
Is the speed of change adequate?  Governments such as Japan have no choice but to take immediate action.  Others such as the United Kingdom and Massachusetts are leading efforts to handle a potential liability and capitalize upon what they also see an opportunity.  Most governments are still on the sidelines.
The age wave is most pressing in Japan due to the age of its population relative to other world economies.  The United Kingdom has declared aging one of its four Grand Challenges (along with Artificial Intelligence, Future of Mobility and Clean Growth).  In the U.S., Massachusetts Governor Charlie Baker established a Council to Address Aging.  It began its work with listening sessions and in 2019 will begin rolling out prioritized solutions around housing, transportation, caregiving and employment.  Some solutions likely will be specific to local Massachusetts markets and will need to be adjusted to meet needs of other markets.
Age Friendly Advisor serves as an ongoing 'listening session' to inform policy making and aid aging services professionals in spotting and implementing best practices. In addition, it will  help individuals identify well-reviewed local services that also fit their budget.  It is designed to collect insights locally, at the neighborhood level, while also making it easy for innovators to spot best practices—either from a neighboring community or from the other side of the Globe.
Note:  Age Friendly Advisor's Tim Driver was named as a co-chair of Governor Baker's Council to Address Aging Employment Work Group.
Date posted: Nov 30, 2018