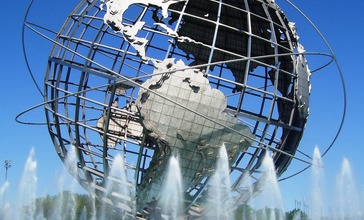 Queens is the easternmost and largest in area of the five boroughs of New York City.
It is geographically adjacent to the borough of Brooklyn at the southwestern end of Long Island and to Nassau County farther east on Long Island; in addition, Queens shares water borders with the boroughs of Manhattan and the Bronx. Coterminous with Queens County since 1899, the borough of Queens is the second-largest in population (after Brooklyn), with a census-estimated 2,358,582 residents in 2017, approximately 48% of them foreign-born.
Queens County also is the second-most populous county in the U.S. state of New York, behind the neighboring borough of Brooklyn, which is coterminous with Kings County. Queens is the fourth-most densely populated county among New York City's boroughs, as well as in the United States. If each of New York City's boroughs were an independent city, Queens also would be the nation's fourth most populous, after Los Angeles in California, Chicago in Illinois and Brooklyn. Queens is the most ethnically diverse urban area in the world.Queens was established in 1683 as one of the original 12 counties of New York. The settlement was presumably named for the Portuguese Princess Catherine of Braganza (1638–1705), Queen of England, Scotland and Ireland.
Queens became a borough during the consolidation of New York City in 1898, and from 1683 until 1899, the County of Queens included what is now Nassau County. Queens has the most diversified economy of the five boroughs of New York City. It is home to JFK International Airport and LaGuardia Airport. These airports are among the world's busiest, in turn giving Queens the busiest airspace in the United States. Landmarks in Queens include Flushing Meadows Corona Park, Citi Field (home to the New York Mets baseball team), the USTA Billie Jean King National Tennis Center (site of the US Open tennis tournament), Kaufman Astoria Studios, Silvercup Studios, and Aqueduct Racetrack. The borough has diverse housing, ranging from high-rise apartment buildings in the urban areas of western and central Queens, such as Jackson Heights, Flushing, Astoria, and Long Island City, to somewhat more suburban neighborhoods in the eastern part of the borough, including Little Neck, Douglaston, and Bayside.
It's quiet, well laid out , as activity for all age groups, and vibrant transportation system
I am a license PCA caregiver. Close and anywhere to queens is ok that are accessible for transportation.
Happy to work and help elderly people who needs companion
There are community centers, senior centers, parks, libraries, churches, shopping centers and other age friendly activities for mature adults.
I believe Queens is this beautiful area for all ages whether your a kid or adult.
Senior Living Communities
Explore Home Care Options Near You
Find a Financial Professional Near You
Taxes