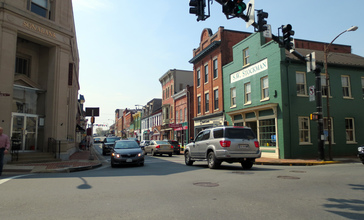 Leesburg is a historic town within and the county seat of Loudoun County, Virginia. Leesburg is 33 miles (53 km) west-northwest of Washington, D.C. along the base of Catoctin Mountain and adjacent to the Potomac River. Its population according to the 2010 Census is 42,616. The town is also the northwestern terminus of the Dulles Greenway, a private toll road that connects to the Dulles Toll Road at Washington Dulles International Airport.
Leesburg, like the rest of Loudoun, has undergone considerable growth and development over the last 30 years, transforming from a small, rural, piedmont town to a suburban bedroom community for commuters to the national capital. Growth in the town and its immediate area to the east (Lansdowne/Ashburn) concentrates along the Dulles Greenway and State Route 7, which roughly parallels the Potomac River between Winchester to the west and Alexandria to the east.
The Federal Aviation Administration's Washington Air Route Traffic Control Center is in Leesburg.
Probably, I could recommend this community to my older friends and family because of its livability, care, education and working conditions
The Resident in the area smile and greet you when they meet you outside .And we all come
Together to do comm work by cleaning.planting flowers in the community.
Sometimes too we have get together parties like
Thanksgiving Halloween and Christmas
Professional individuals in suburbs of DC. Very computer savvy and FBI and Secret Service. Government employees
Very conveniently for Aged or elderly people transportation ,groceries hospital etc..
It is a nice place to work
Senior Living Communities
Explore Home Care Options Near You
Find a Financial Professional Near You
Taxes