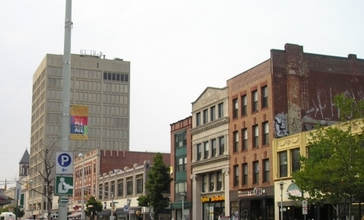 Situated directly north of Boston, across the Charles River, it was named in honor of the University of Cambridge in England, an important center of the Puritan theology embraced by the town's founders. Harvard University and the Massachusetts Institute of Technology (MIT), two of the world's most prestigious universities, are in Cambridge, as was Radcliffe College, one of the leading colleges for women in the United States until it merged with Harvard on October 1, 1999. According to the 2010 Census, the city's population was 105,162. As of July 2014, it was the fifth most populous city in the state, behind Boston, Worcester, Springfield and Lowell. Cambridge is one of the two seats of Middlesex County, although the county government was abolished in 1997; Lowell is the other. Kendall Square in Cambridge has been called "the most innovative square mile on the planet", in reference to the high concentration of entrepreneurial start-ups and quality of innovation that have emerged there since 2010.
Cambridge is an emerging age friendly community. This means it is pursuing an age friendly designation.
East Cambridge is a great community to live in, i went to one of the best public high schools in my city. We have a diverse community, it's super safe for friends and family, it's easy to get around. You don't need a car because everything is so close to each other.
I originally received my CNA license 11 years ago in high school. I have been a CNA for 7 years. I have worked in several different types of facilities. I am currently in LPN school.
There are many accessible spaces and cultural activities. From the Fogg Art Museum and Natural History Museum at Harvard, to the public library. There are many open green spaces along the river, the common and parks. The community is vibrant people of all ages, and is friendly. It is also very walkable.
Side walks can be to narrow for people with mobility impairments.
Transportation friendliness education education working
Senior Living Communities
Explore Home Care Options Near You
Find a Financial Professional Near You
Taxes