Member of the World Health Organization Global Network of
age-friendly
Cities and Communities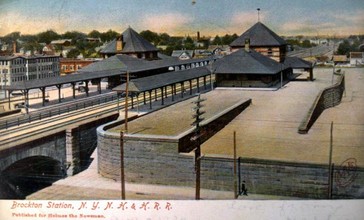 Brockton is a city in Plymouth County, Massachusetts, United States; the population was 95,314 in the 2015 Census.
Brockton, along with Plymouth, are the county seats of Plymouth County. Brockton is the seventh largest city in Massachusetts and is sometimes referred to as the "City of Champions", due to the success of native boxers Rocky Marciano and Marvin Hagler, as well as its successful Brockton High School sports programs. Two of the villages within the city are Montello and Campello, both have the distinction of having their own MBTA Commuter Rail Stations and post offices. Campello is the smallest neighborhood in the city, but also the most populous. Brockton hosts a baseball team, the Brockton Rox. Brockton is one of the windiest cities in the United States, with an average wind speed of 14.3 mph.
Healthcare
Brockton has three hospitals, Signature Healthcare Brockton Hospital on the east side, Good Samaritan Medical Center - a Steward Family Hospital (formerly Caritas Good Samaritan, and before that Cardinal Cushing) Hospital to the northwest, and the Brockton Veterans Administration Hospital to the southwest. The VA Hospital is the sponsoring institution for the Harvard South Shore Psychiatry program. It serves as a teaching facility for residents of various medical specialties from Boston University, physician assistant students from Northeastern University, nursing students from the University of Massachusetts Boston and pharmacy students from the Massachusetts College of Pharmacy and Health Sciences.
Brockton has a community health center that serves individuals with low income and poor access to health care at Brockton Neighborhood Health Center.
Transportation
Major highways
Massachusetts Route 24, a six-lane divided motorway, passes through the west side of the city, with exits at Route 27 to the north and Route 123 to the south. The two routes pass through the center of the city, crossing at that point. Massachusetts Route 28 passes from north to south through the center of the city, The western end of Route 14 (at its intersection with Route 27) and the southern end of Route 37 (at its intersection with Route 28) both are in the city.
Bus
Brockton has its own bus services, operated by the Brockton Area Transit Authority (BAT). Each bus has a designated route running through a section of Brockton, i.e. Montello, Campello, Cary Hill, etc. There are also buses that have routes outside the city. i.e. Bridgewater Industrial Park, Ashmont Station (MBTA subway end-of-line), Stoughton and a connecting bus stop in Montello to the Braintree Station (MBTA subway end-of-line).
Rail
The Middleborough/Lakeville Line of the MBTA's commuter rail system passes through the city on the eastern side, with stops in the Montello and Campello neighborhoods, as well as in the city center, providing service to points south and South Station in Boston north of the city.
There is plenty of transportation a lot of things in community to do for elderly people and also lots of elderly communities
I would say education, transportation is very well accessible to everyone
They make reasonable accommodations for the elderly and disabled
Senior Living Communities
Explore Home Care Options Near You
Find a Financial Professional Near You
Taxes