How To Bring Mom or Dad to a Restaurant When They Have Alzheimer's
One of the most difficult aspects of caring for a cognitively impaired loved one is the fact that the normalcy of social interaction is completely upended. Let these simple tips ease the act of eating at a restaurant together.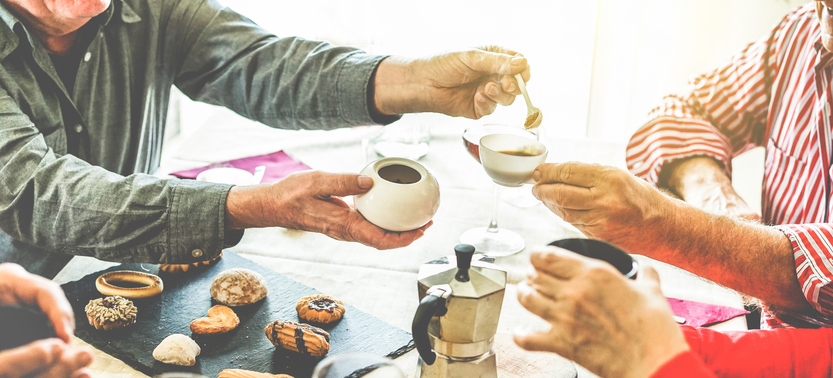 CARE
One of the most difficult aspects of caring for a cognitively impaired loved one is the fact that the normalcy of social interaction is completely upended. The things you used to do to bond, like share a meal out, instead become challenges filled with lots of tiny friction points and questions—what if the restaurant isn't accommodating, what if my loved one becomes confused or irritable—but keeping these routines can be important for maintaining the emotional reserve that a loved one needs. After all, however differently-abled, this is still mom or dad.
To shed some light on how to ease this process, we asked Charlene Neu, MA and certified Aging Life Care specialist, about some of the ways you can account for your loved one's abilities and still enjoy the little things in life that you both used to, like going out to eat.
In order to ease the tiny frictions, consider doing the following:
Call the restaurant ahead of time: "This drastically improves the quality of the whole dining experience because management and the servers have time to mentally prepare for a visit," Neu says. Dial the main office line 30-60 minutes before you plan on visiting so they can make any necessary accommodations or find an appropriate section for you to sit in (more on that below).
Go to a familiar place or an old haunt: Trendy may not be ideal and reminiscence for a recognizable eatery can reduce stress and agitation by helping the diner remember past good times there.
Dine at off-peak hours like 4 p.m. instead of 7 p.m.: In addition to getting more attentive service, the lower traffic volume will be easier for your loved one to cope with. "In individuals with cognitive impairment, being around large groups of strangers can provoke stress, so it's better to avoid those settings," Neu recommends.
Ask for seating away from the kitchen or main entryway: For the same reason you'd want to dine off-peak, you also want to avoid bustling routes in the restaurant. Look for scenic or interesting views that won't be getting a lot of foot traffic. And feel free to make this request when you're calling your visit in!
Offer up decisions on food: Cognitive impairments can affect decision-making and the last thing this outing should be is a chore for anyone involved. If mom or dad is having a hard time deciding on something, patiently offer up a series of items they might like to help save the server (and yourself) some time in getting your order in.
Don't rush the meal: This is a time for you to enjoy the social proximity to your loved one and rushing or a sense of hustle can create the exact opposite environment you're trying to foster. Give yourself a big block of time to savor the meal and the time together.
Bon Appetit (and tip generously!): The restaurant that gets this service right is ripe for repeat visits, so help foster the environment by tipping generously and mentioning a kind word to the manager on the way out. The added benefit is that restaurants and waiters who see good returns from being age and dementia friendly will make it a point to become better at it!
Following the guidelines above can help reduce the stress a caregiver faces and make meal-times more enjoyable. Don't forget that if you have any care questions or need additional guidance, you can dial a family advisor at Age Friendly Advisor for free. Happy munching!
Date posted: Feb 12, 2019