AgeFriendly.org Survey: Flexible Work Options post-COVID Have Most Older Adults Ready To Put Off Retirement
In a survey conducted by AgeFriendly.org, two-thirds of older adults reveal they are likely to delay retirement if it means they'll have flexible conditions such as part-time work from home.  Employers are still weighing how much remote work they're willing to accept in a post-COVID world,  but many are considering more flexible working conditions.  This includes hybrid approaches where workers split their time working remotely and on-site.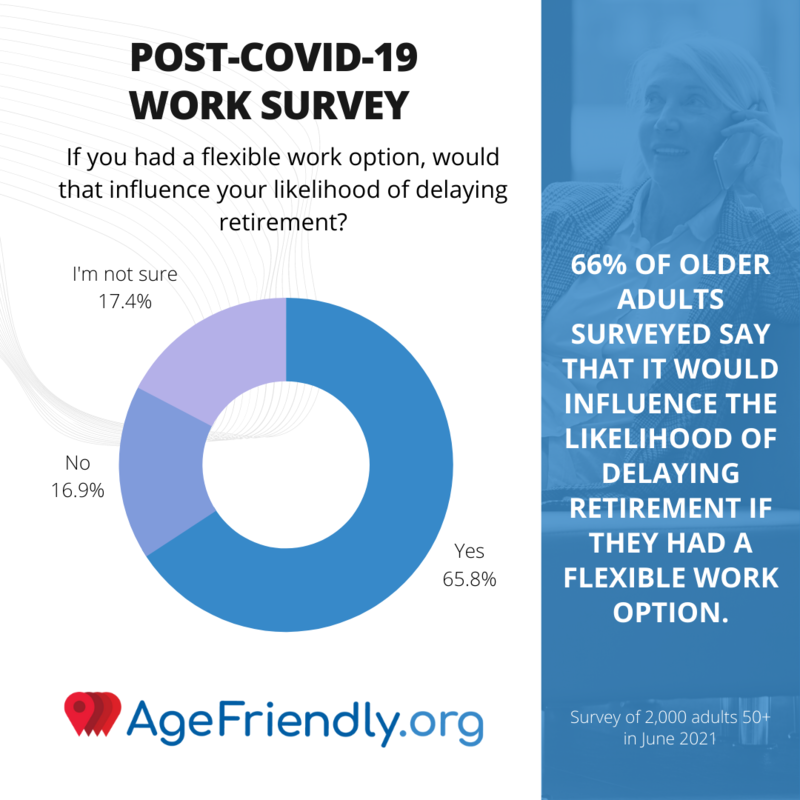 The survey of more than 2,000 people over age 50 was conducted in June 2021.
"If my boss lets me work mornings and says I can work from my home, I'll definitely delay retirement," said Donna Richey, a 70-year old artist who works part-time as a customer service and sales representative from her home in New Hampshire.  Prior to the pandemic, employers were already allowing workers to take advantage of remote working platforms such as Zoom, but numbers soared during COVID and prompted many employers to conclude there was little or no decline in productivity.
Now the model may be here to stay.  It could even push more employers to adopt phased retirement strategies, rather than "cliff" retirements where an employee departs an organization "cold-turkey" on a given date.  "We knew flexible work was a big deal for retirees well before COVID but this has been the ultimate validation of our model," says Sharon Emek, CEO of Work-at-Home Vintage Experts (WAHVE), which specializes in hiring people age 50+ and putting them to work remotely.  "So long as the quality of work is there, I'm actually fine with people working from their retirement home, or even working while they travel.  Retirement is so different now.  This is what older people want.  And employers have proven it works."
As observed in earlier research by AgeFriendly.org and RetirementJobs.com, working longer provides benefits for workers, employers and society alike. People who work longer have a greater sense of purpose, are healthier, and save more for retirement. Working longer also benefits employers by bringing experience, diversity, and lower turnover to the workplace.  See: Working Longer Solves (almost) Everything (Part I | Part II).
The Age-Friendly Institute is committed to helping employers create and foster productive and healthy environments for older adults, free from discrimination through our Certified Age Friendly Employer (CAFE) program. Since the CAFE program launched in 2006, hundreds of employers have earned the distinction of being recognized as a Certified Age-Friendly Employer.